Close to Home and A Postcard Away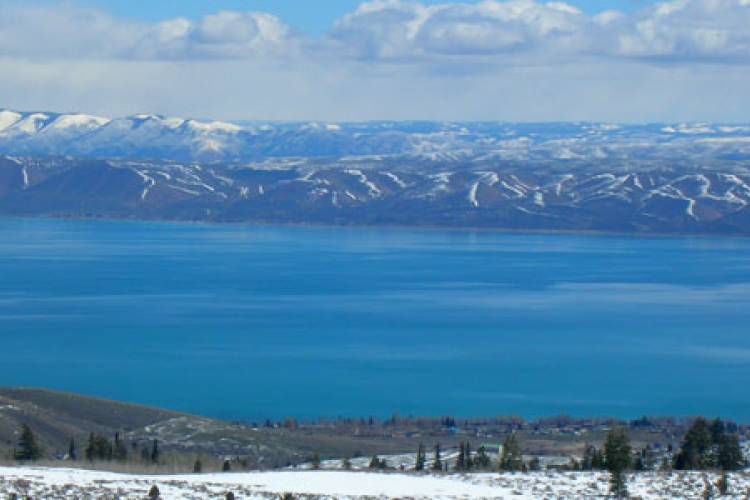 Destin Life Magazine Jan 25, 2021
By JoDell Haverfield, Have Travel Memories
As I am writing my first editorial for 2021, the snow is lightly falling outside the window of our rustic mountain cabin. While the picturesque views of the craggy Utah peaks above us or Bear Lake just down the hill are indeed stunning, for this Florida girl living in Miramar Beach for the past 14 years, temps ranging from 7 to 30 degrees at nearly 6000 feet above sea level is indeed very cold. Due to the pandemic, my family's 2020 multigenerational trip turned out to be a Christmas trip to the Rocky Mountains.
When I say we have gone where the wild things are, I am not referring to my 15 grandchildren running around. In this part of the country, you can feel like you're on a Wildlife Safari every day. You might see wild turkey, deer, elk, wolves, moose, mountain lions and even hear eerie howls at night. Having raised our children in Montana, being in the mountains of UT is hardly any different and just as adventuresome, except we have not seen a grizzly bear yet. I have been told that is because they're rarer here, and did not know that! I remember one summer in Montana our family was hauling our boat to Flathead Lake when traffic was stopped right in the middle of a small town as we watched a huge Grizzly finish ambling across the highway.
At this very moment, everyone has just returned from skiing the non-social distanced freshly powdered slopes and are trading their ski suits for swimsuits as they head for our cabin's hot tub in the snow. The frigid temperatures only make it even more appealing.
For me, though, nothing beats a cruise. From my first cruise as a girl with my parents to my first cruise with my own children where we created such great memories we still talk about today, especially now as we have a renewed appreciation for our time cruising together. Thanks to cruise industry connections, we have had many opportunities to cruise. Whether it's hosting a group or experiencing a new ship's inaugural cruise with fellow travel advisors, being on a cruise ship is invigorating to my soul. My adrenaline starts pumping the minute the cruise port comes into view.
If cross country flying December 2020 is any indication, then I would say people are ready to travel again. The airports were full and every seat the airline offered had someone in it. I also noticed something else—people were happy. Even their masked faces could not cover their joy. Maybe it was anticipating Christmas with family or just the exhilarating feeling of going somewhere.
Whether it's 2021 or 2023, whether you're waiting for cruise ships to return to the seas or dreaming of a Sandals Resort in the Caribbean which are already welcoming visitors, my advice is to start planning now. Availability will be tighter than it has ever been and with amazing offers and liberal cancellation policies currently in place, you can't go wrong. Booking now will get you better deals and as far as cruise ships go, with fewer passengers on board, it's a win win.
TIP: Traditionally at the beginning of each new year, cruise lines promote their best offers; this is known as Wave Season. So now is an especially great time to start planning your next cruise. Whatever happens in 2021, you will have the opportunity to cancel or rebook, so why wait? Our Destin office is ready to help you plan your perfect post Covid-19 travel experience today.
Happy New Year and Happy Travels from all of us at Have Travel Memories Vacations, a family travel agency and a family that travels together!
~JoDell, Dave, Jalayne and Jason