Crab Island - A Destin Favorite!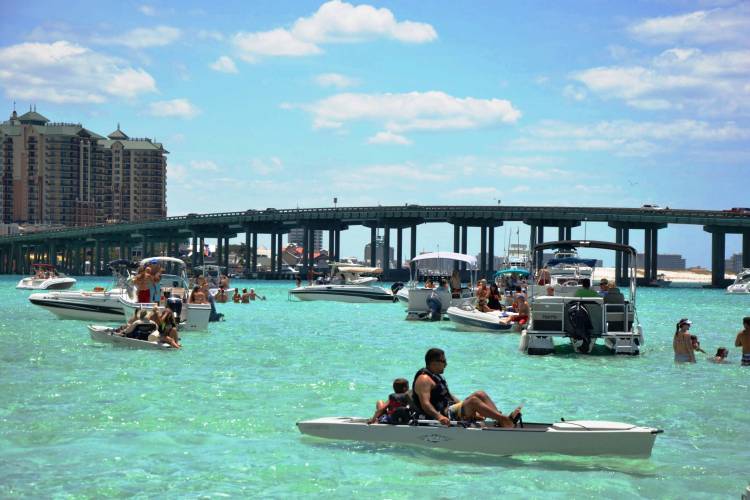 WHAT IS CRAB ISLAND?
Crab Island is a sandbar located just north of the Destin Bridge at the southern entrance of the Choctawhatchee Bay, inside Destin's East Pass. This sandbar used to be a crab shaped island above the waters sruface but over the years the island has eroded to an underwater sandbar that ranges from 1 to 4 feet in depth.
WAHT IS THERE TO DO ON CRAB ISLAND?
Crab Island is a popular and fun place for locals and tourists alike to enjoy boating, kayaking, paddle-boarding, swimming, snorkeling, shell collecting, parties, live music, water sports, and more. 
WHY IS CRAB ISLAND SO POPULAR?
The warm shallow water of Crab Island attracts many visitors each year to this beautiful and scenic location to socialize, soak in the warm tropical like spring and summer weather, and to enjoy some of the best that Destin has to offer. 
HOW DO I GET TO CRAB ISLAND?
Crab Island is only accessable by boat or some other form of watercraft. There are many places in the Destin area to rent boats, pontoon boats, jet skies, paddle boards, kayak, etc. HaveTravel-Memories Vacations can help you with our amenities like Destin Snorkel, or a Dolphin Cruise, and we can provide you with any additional information you may need to enjoy your vacation. 
IS CRAB ISLAND FAMILY FRIENDLY?
There are times of the year especially on the weekends where the parties can get pretty rowdy on Crab Island. These events usually take place in a collected area of the sandbar, however these gatherings can usually be avoided by staying on other parts of the Island. Weekday visits may be a better option for families with young kids. 
WHAT IS THE BEST TIME OF YEAR TO VISIT CRAB ISLAND?
Crab Island is accessable year round. March through October is typically when the local vendors can be found on Crab Island.